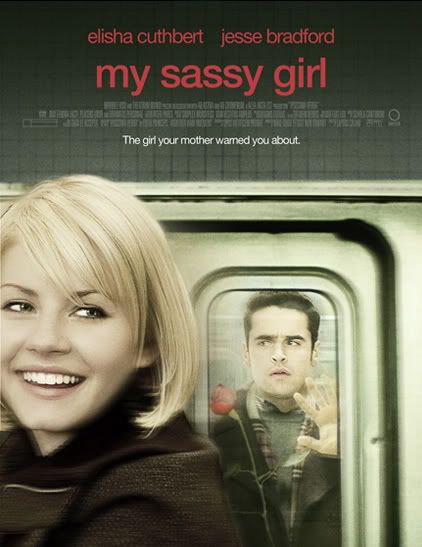 I really liked the film. It was a fresh kind of romantic comedy. There were barely any outrageously cheesy moments. Jesse Bradford even made me swoon.
My Sassy Girl
is an American remake of the 2001 Korean film of the same title. The film is directed by
Yann Samuel
,
and
stars Jesse Bradford
and
Elisha Cuthbert.
The film went straight to DVD in the US, but it premiered in theaters in other countries, e.g.
Philippines
.
My Sassy Girl is about a sweet guy from the Midwest named Charlie Bellow (
Bradford
), and his confusing and life-changing relationship with the demanding, complicated, and beautiful Jordan Roark (
Cuthbert
). Charlie unexpectedly meets Jordan while waiting for his ride in the subway, and after saving her life while she was drunk and taking care of her, Jordan repays Charlie by sabotaging his mundane life.
I've heard that the people who have seen the Korean version say that the American one sucks.
Well I've never seen the Korean version, but I've got to say that this is an incredibly sweet romantic film. But not too sweet, there were enough rough and tumble parts to keep the audience interested.
Jesse Bradford
and
Elisha Cuthbert
's performance were great, extra kudos to Cuthbert for her outstanding screen presence. My Sassy Girl isn't like all the other romantic comedies, it's not a one dimensional film where the hero/heroine suddenly changes their "player" ways because they've fallen oh-so in love with either the "geek" or the "best friend." And no one "suddenly realizes" that they're in love with the person sitting in front of them the whole damn time. What I really like about the film is that there's no tangible flaw in the characters, they're perfectly imperfect humans. This takes the film to a fairly more genuine level of character development than most movies in the romantic comedy genre.
My Sassy Girl
is ultimately a story about making the choice to follow the destiny presented to you. Although it's pretty obvious where the plot is going, especially if you're the type to look for it, the film still gives the audience a crazy, lovely,
sassy
ride throughout.