Gossip Girl Episode Recaps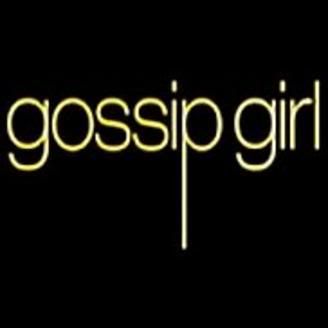 The last time we saw our fabulous East Siders, Lily got married, Dan and Serena just broke up, Chuck ditched Blair on a helipad, Jenny was interning at Eleanor's fashion line, Rufus was touring with his band, and Nate was… well, he was there.



All caught up?



Good. Now onto the episode recap.





(Spoilers. Lots.)







Gossip Girl Season 2 Episode 1 Recap





Summer, Kind of Wonderful




We see that Nate has been busy. An older girl? A married older girl? Well surely that's gonna end well. Thanks to Serena's cover, Nate's been dating a mysterious older woman that we know practically nothing about. Except that she's married.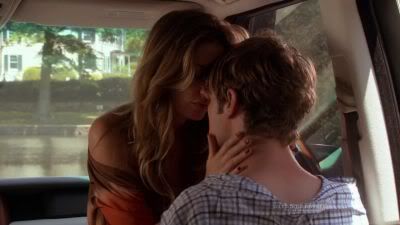 Thanks to Gossip Girl, Chuck got wind of Blair's arrival, and spent massive amounts of cologne and hair gel (I assume) to clear any evidence of his usual philandering with topless women on the beach.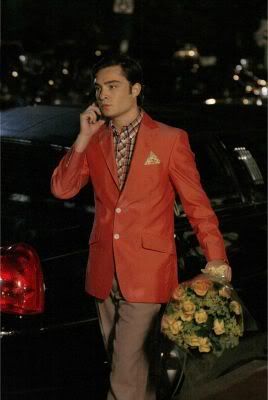 But of course, he shouldn't have expected Blair to come home alone, all vulnerable and hurt. She is Blair after all. She came home with James, all vulnerable and hurt. And who is James?

Clue: He's not from Princeton nor Georgetown.






Lonely Boy turned into a Playboy, and not a very good one. He's been interning as an assistant for his favorite author, and amidst all the work that he was supposed to have done yesterdays ago, he's been kissing, dating, and two-timing other women. He has this book assignment that he was supposed to do to get a referral from his boss, but apparently he can't keep his mind from a certain girl whose heart

he

broke.

Clue: She's tall, blonde, and despite the rumors, not dating Nate.



As for the youngest Humphrey, she's an intern for Eleanor. As the little social climbing bee that she is, Jenny offered her boss, Laurel or Laura (I forgot), a custom made dress she made for her to wear for the White Party. Her reward for all the hard work? More hard work.



So what does Little J do? Use Eric.




After her (not all that) convincing apology for how she treated him like gum stuck on her faux Manolo Blahnik's, she asked for his help. And Eric, the only sensible person in this land of debauchery (New York), invited her to the oh-so important White Party, introduced her to some important person I forgot the name of, and did this all in front of her arrogant boss. Poetic justice. Or maybe not. Duly impressed by her cunning and subtle bitchiness, Laura/Laurel nicely chatted with Jenny and said she'll see her back on work.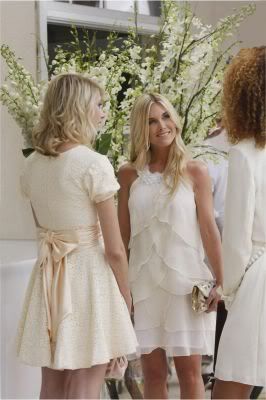 Blair tried, and succeeded, in making Chuck jealous with her new boytoy James. Unfortunately for her, James is not as dumb as he looks and saw through Blair's games.

Fortunately

for Blair, James is actually British. A

royal

British. Who still has feelings for her even though she treated him like a squire boy.






After Chuck's pleas, he still couldn't convince Blair to ditch the lord and stay with him, because he failed to give her the three magical words.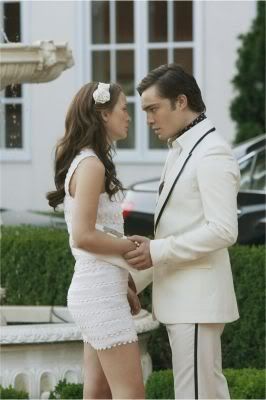 After some sound advice from his rockstar father, Dan decided to trot over to the Hamptons to find Serena. When he got there, Serena's Grandmother decided to bestow her niceness upon him and helped him clean up for the White Party.






However at the White Party, Nate and her faux date Serena were busy trying to make Nate's married girlfriend jealous by kissing and acting like a couple.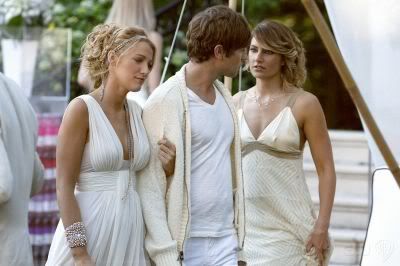 Of course, during their liplock was just the exact moment that Dan decided to appear.




After showing us his judgmental, irritating, and whiney side for the thousandth time, Dan finally got served. By scorned women with cocktails.




Those were his "girlfriends" during his Playboy days. Which were about an hour ago. So in the end, Serena got back with Dan after moping after him throughout the summer.




Blair is going out with a Lord. Chuck still can't say the three magical words. Nate is a mistress. And Jenny turned from a social climber into an ambitious intern. I'm kind of tired of the whole Dan and Serena couple trouble. They were cute at first, but I lost all respect for Dan during the fiasco that is Georgina. He was just too judgmental and righteous all the time. I'm more interested in what Gossip Girl has in store next for Blair and Chuck.



All in all, the episode was pretty good. Not great. But a good enough intro for the rest of the second season.



The end.



What?



Were you expecting me to say XOXO?



HAH!



More next week from your non-Gossip Girl gossip girl.