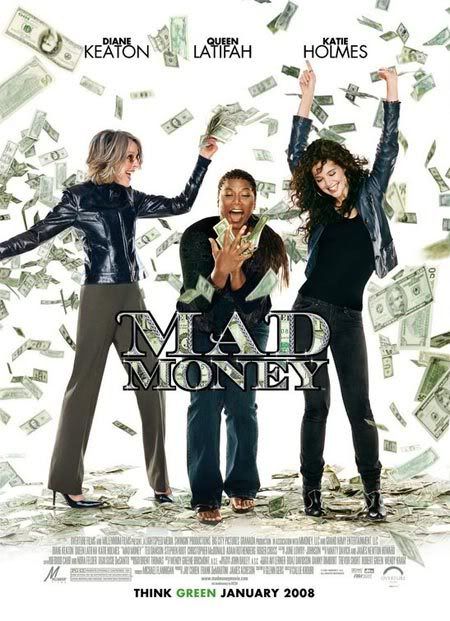 Mad Money is a comedy film by Callie Khouri, which stars Diane Keaton, Queen Latifah, and Katie Holmes.
Mad Money is about three seemingly ordinary women from different walks of life who come together for a common goal, money. These three women decide to rob the bank they are working for. Their heists go unnoticed for a long period of time because the money they steal are bills that are being destroyed. The group was initiated by Bridget Cardigan (Diane Keaton), who is considered as the criminal mastermind. She lived a fortunate lifestyle with her husband Don Cardigan (Ted Danson) until they became recently bankrupt. Desperate for any monetary income, she applied for a janitorial job at the Federal Reserve Bank. Nina Brewster (Queen Latifah), is a single mother of two and is the main voice of reason of the group. Jackie Truman (Katie Holmes) is the youngest of the group and has possibly the least motivation. Although they all have very different reasons for agreeing to steal money, they form a group camaraderie that helps them survive the troubles ahead of them.
Mad Money was entertaining enough, but it lacked substance in practically all aspects. The cast was admittedly stellar, Keaton and Latifah had contrasting personalities that kept things interesting, and Katie Holmes in particular was a pleasant scene stealer for me. Many critics may have differing opinions about her acting skills, but in this film her main job was to act cute, and I thought she did so quite well.
The thing about this film is that it really could have been better. The overall pacing didn't achieve anything above average, and the comedy was good enough, but it wasn't laugh out loud funny. The story didn't really give any thought-provoking lessons or conclusions, and the other characters were at times, simply annoying and a little too over the top stereotypical. Mad Money's best asset truly is its main cast, and it's only because of them that this film can be called interesting.